Dear Brooklyn, we love you.
Over the years, we at CREW have been slowly falling deeper and deeper in love with Brooklyn. We love it for its culture, diversity, trendiness, hipsters, and how it's just a little removed from the hustle and bustle of Manhattan. But we also love it for its plethora of super cool and (might we say) underused event spaces! Call us event geeks if you must.
Here, we'll introduce you to some of our favorite venues just over the bridge in some of the most sought-after neighborhoods of Brooklyn. We bet by the end of this blog, you'll be lovin' Brooklyn as much as we do.
DOWNTOWN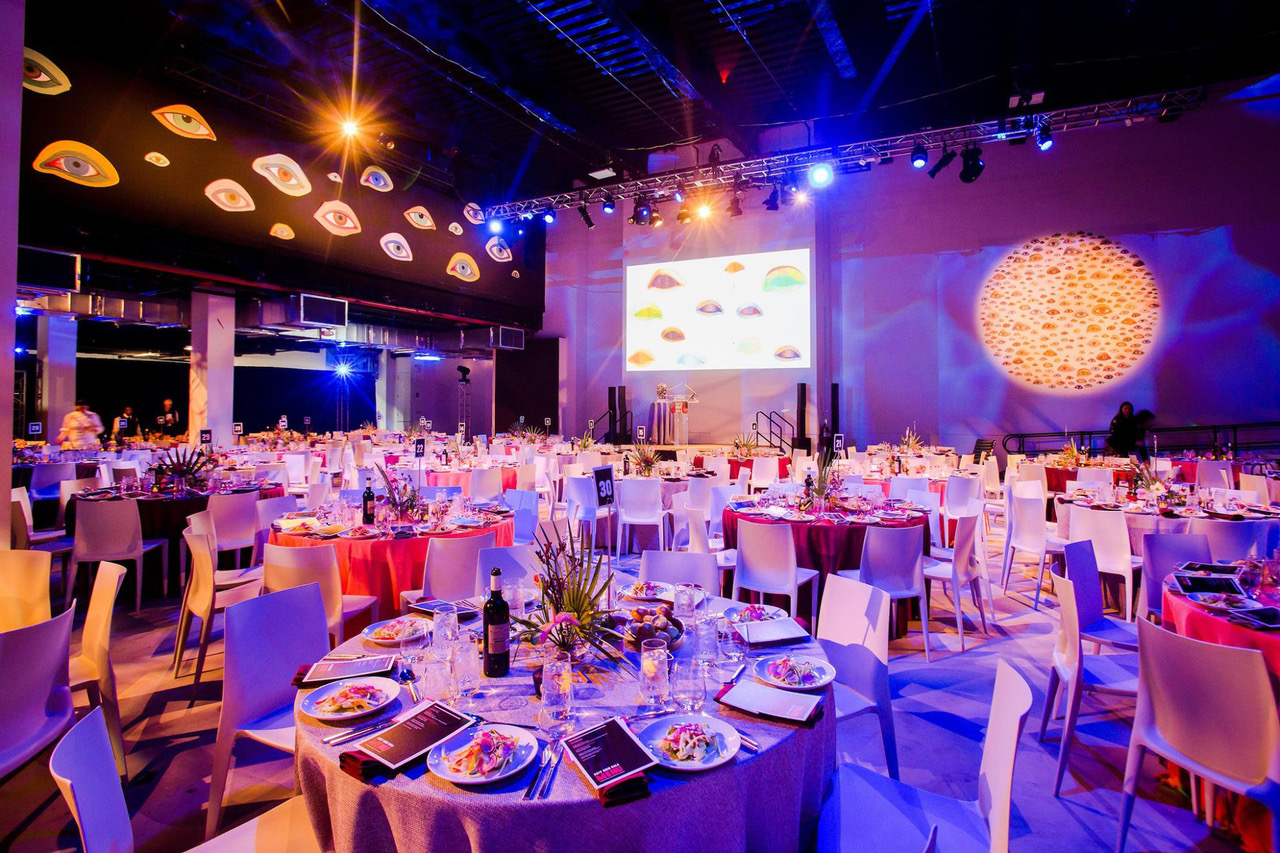 BKLYN Studios
This is a brand new space that is part of the fabulous City Point on Flatbush Ave, with a modern yet industrial glass door entrance welcoming guests inside. With its high ceilings and raw ambiance, BKLYN Studios is an ideal space for meetings, galas and even fashion shows. Covered in white walls, this venue is a perfect backdrop for larger-than-life branding. Our favorite feature about BKLYN Studios, though, is the food court with 38 vendors just one floor below. Instead of doing a standard catered meal, event attendees can explore an array of cuisines that this trendy market has to offer.
Duggal Greenhouse
This is a gigantic venue (nearly 30,000 sq ft) of column free space - music to our ears! It's an ideal venue for large conferences or press premieres, meetings, concerts, fashion shows and trade shows. Located in the Brooklyn Navy Yard, Duggal sits right on the water and boasts gorgeous views of lower Manhattan and the Brooklyn Bridge. Most choose to transport their attendees altogether via a water taxi, a fresh approach from the traditional bus experience for attendees. Another wonderful feature is that the exterior of the building can be branded and lit up - a great branding moment for guests as they approach the building on boat.
26 Bridge
26 Bridge has a wonderful historic feel with beautiful brick walls complemented by rustic wooden floors. Its several skylights bring in plenty of natural light too. This beautiful column-free space is located on the ground floor, making for an easy load-in. It has great character and would be a perfect spot for a simple wedding or small corporate meeting.
A/D/O
Polished, refined, yet industrial all at the same time. A/D/O has a large open floor plan and is equipped with large plasma screens, a sound system and a range of versatile industrial style furniture. The atrium is connected to a cool restaurant spot that can also be bought out. The restaurant was created by Claus Meyer (Great Northern Food Hall and Agern) and Fredrik Berselius (Aska) and serves a New Nordic menu. A bonus: the super cute outdoor space connected to the atrium has a "rotating" gallery space where different artists and their work are constantly on display for guests to interact with. The options for types of events to host here are endless.
Dobbin St.
Dobbin St. sets itself apart in a few key ways; a stunning cerulean blue exterior that cannot be missed, a column-free main space with high ceilings, and a spacious rooftop with a great view of the Manhattan skyline. The venue's aesthetic is industrial-chic (emphasis on chic) with its concrete floors, exposed beams, custom luxury wallpaper and fine finishes throughout...not to mention, their bathrooms smell like roses. This easily to transform venue is a great option for both corporate or social events.
Greenpoint Warehouse
Similar to its sister property, 26 Bridge, Greenpoint Terminal has the same rustic, pre-WWII vibe, but with over 8,000 sq ft of column-less space and high ceilings. The genuine old warehouse feel is still in tact and the acoustics are incredible. Greenpoint Terminal Warehouse also has great back of house green rooms available and is a dream for loading in with it's massive garage door that opens up to the street. This space would be perfect for an exclusive product launch, concert or fashion show.
Brooklyn Expo Center
Down the road from Greenpoint Terminal Warehouse, the Brooklyn Expo Center is suitable for trade shows and large-meetings. With floor-to-ceiling windows throughout, this bright venue could easily be divided into several different sections, and also has great ancillary spaces for breakout meetings, green rooms and production offices. Not to mention, it's located on an adorable Greenpoint block.
The Green Building
It has the look and feel of a raw, industrial space, but it's fully functional with a ton of bells and whistles. The space, with it's beautiful cathedral ceilings and outdoor patio, is equipped with hanging chandeliers on dimmers and a plug and play sound system. It also has a great inventory of basic rentals like chairs and tables that are included with the space. The venue provides the alcohol and bar staff and has recently invested in some pretty cool satellite bars that are also included in the rental. Last but not least, a food truck can drive right into the outdoor space, and there's an adorable vintage truck with a flatbed full of flowers parked right outside the venue - great for photo opps and an additional branding moment.
501 Union
Sophisticated and masculine, yet tropical all at the same time..that's how we would describe the decor of 501 Union...and we love it. The space is broken up into 3 spaces that flow into one another: the lounge, main space and covered outdoor patio. Like its sister space, The Green Building, which is directly across the street, the venue has basic chairs and tables available that are included in the rental as well as some awesome lounge furniture and two killer built in bars.
Liberty Warehouse
This massive, two-story venue predates the Civil War and is said to have been used as a munition warehouse. A wedding venue at its core, this rustic space is a great blank canvas and can be transformed easily with great lighting and decor. Its unparalleled feature is its spectacular view of our Lady Liberty, hence its name. And we love the exposed brick throughout the space and the beautiful promenade overlooking the harbor. Liberty Warehouse will always have a special place in our hearts as one of founders, Sam, was married here.
Villain
Villain is located in one of the trendiest areas of Brooklyn, Williamsburg. While the venue's location in south Williamsburg has been a go-to for locals for years, it's gaining more and more traction by tourists and others who don't live in the area with the newly opened Domino Park across the street. Villain has a raw, masculine vibe with its all black exterior and interior, unfinished floors, and large garage doors. It's the perfect venue for buzz-building events like product launches, concerts or even something more laid back like photoshoots.
Industria Williamsburg 33 Grand St.
Looking for a venue with great history? Then Industria 33 Grand St. is perfect for you. The building dates back to the mid-1800s and has had several lives as a bank, barber shop, bakery and now, an event space. Although it's the smaller of the two Industria venues in Williamsburg, it's definitely a charmer with its original characteristics and cute outdoor space. It's a great spot from smaller corporate meetings to intimate weddings or dinner events.
Industria Williamsburg 39 South 5th St.
Located under the Williamsburg bridge, this unique space is a creative's dream. From the vast entrance with a ramp to its main door, to it's welcoming foyer, to it's column-free main space, this is a super cool venue that can easily adapt to any brand. The main room is about 4,500 sq ft with 25 ft ceilings and walls that are begging to be branded - whether it be with decals, video mapping projection or just some simple lighting. If you're looking to make a statement with your brand, this is the perfect location for you.
Are you as excited as we are to host an event at any of these spectacular venues?! Reach out to us by clicking HERE to learn more and to book the perfect Brooklyn venue today.